Little Miss and I were really lucky to attend 8 weeks of "Wellies in the Woods" run by our local Children's Centre. Each week we went to the local woods for two hours and I attempted to get Little Miss to join in with the activities rather than running off and falling into rabbit holes :).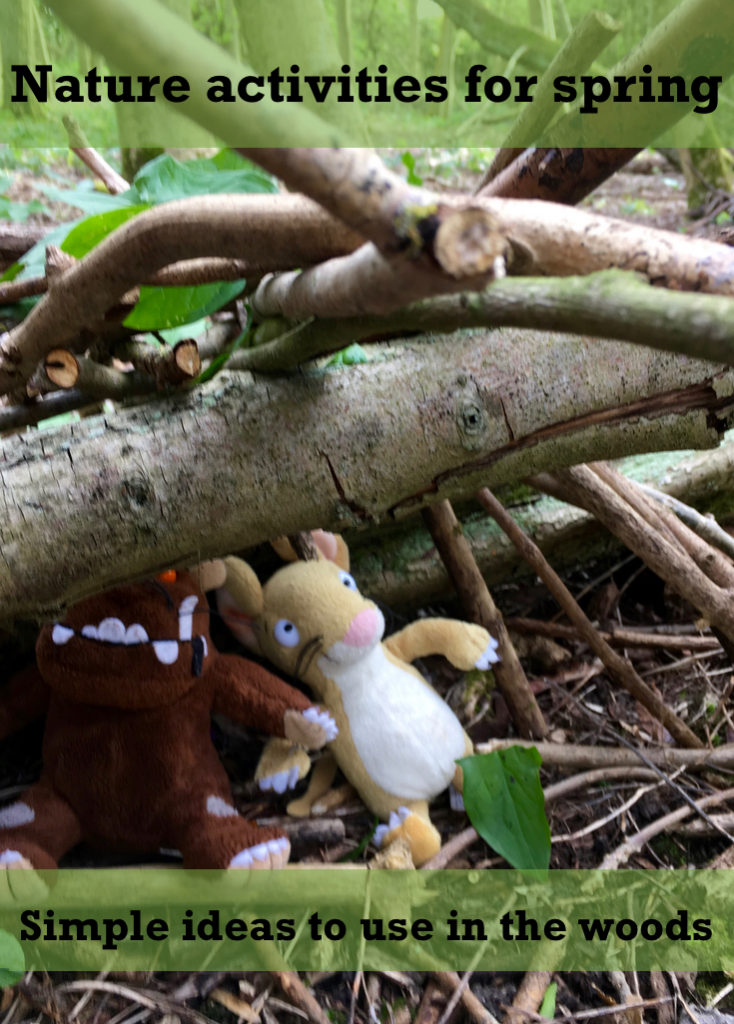 E came to a session in the last school holiday and was really disappointed it wasn't on again during the Easter Holidays so we headed into the woods to do our own. Prior to this I don't think I'd ever taken either child into the woods on my own. As I've said before I quite like planning activities so the idea of preparing for a trip into the woods rather than just wandering in really appealed to me.
Scavenger hunt
There are lots of different printables available on pinterest. I chose this one because I liked the pictures and I thought it might interest Little Miss as well. She liked drawing on it so I guess it kind of worked. It really kept E's attention.

Bark Rubbings
This is a really good way of getting them to get really close to the trees and actually look carefully.  You just need ordinary crayons and paper. Little Miss also quite likes hugging trees.

Shelter
E wanted to build  full size shelter but I thought that was a bit optimistic. I blamed it on having to look after his little sister at the same time but really I don't think my skills are up to it. We settled on a shelter for a cuddly toy and brought the Mouse and the Gruffalo with us.

Memory Stick
I got the idea from here . We chose an appropriately sized stick and tied things onto it. As I expected, Little Miss was entirely uninterested in this activity but it kept E busy (and me interested) while she ran about! I also realised that E is rubbish at tying knots! I blame velcro shoes!!

Equipment list
I'm planning on making myself up a set like this so it's ready to go for next time
Clipboard  – not entirely necessary but if you've got one it helps
String and scissors
Paper
Crayons and writing pencils
Cuddly toys
Hints and Tips
For me, planning activities (rather than simply going for a walk)  makes the whole experience more fun and last longer.
 Don't tell your 8 year old  all of the activities you are going to do in advance! This is a rookie mistake and I don't know why I did it! It certainly made him want to move on quicker than he otherwise would have done and we ended up doing a few of the activities simultaneously.
Bring snacks – I did not! (Again rookie mistake)
It's basically imposible to take beautiful photos whilst trying to stop a 22 month old from sitting in a pile of nettles.
We were out for about an hour and a half which isn't bad going I think. We'll definitely go again so I'd love to hear any other ideas.