In so many ways I'm not suited to being a stay at home parent! I'm terrible at cleaning, I have a tendency to be antisocial and I thrive on deadlines! I'm a master procrastinator. The longer I leave things the bigger they get. Then I don't do other things that I want to do because I've got this big backlog of things I 'need' to do. Instead I waste time binge watching TV series on Netflix or playing silly games on my phone. I convince myself that I just need a break. That's true but I'm also being lazy and avoiding doing things I genuinely like doing for no particular reason!
So, with all that in mind here is a round up of spring activities for kids. I can get these things crossed off my list and get on with other things! (Like making my nephew's birthday present that was due three weeks ago! At some point I may go through and add extra detail but on the whole I think they're fairly self explanatory

This post contains amazon affiliate links which means if you buy something I get a small advertising fee at no extra cost to you.
Spring Play dough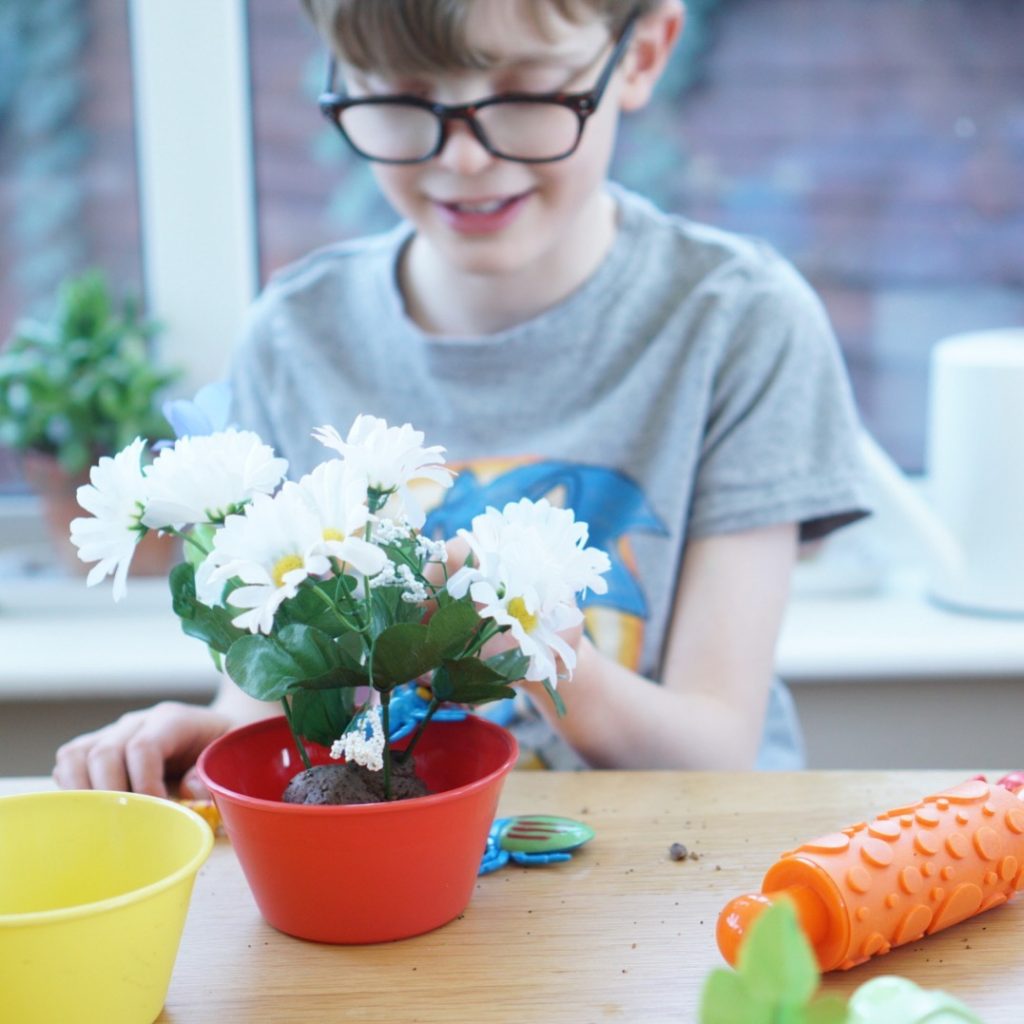 This really popular, both kids played with it all through March. I wrote about it here
Rabbits and chicks sensory play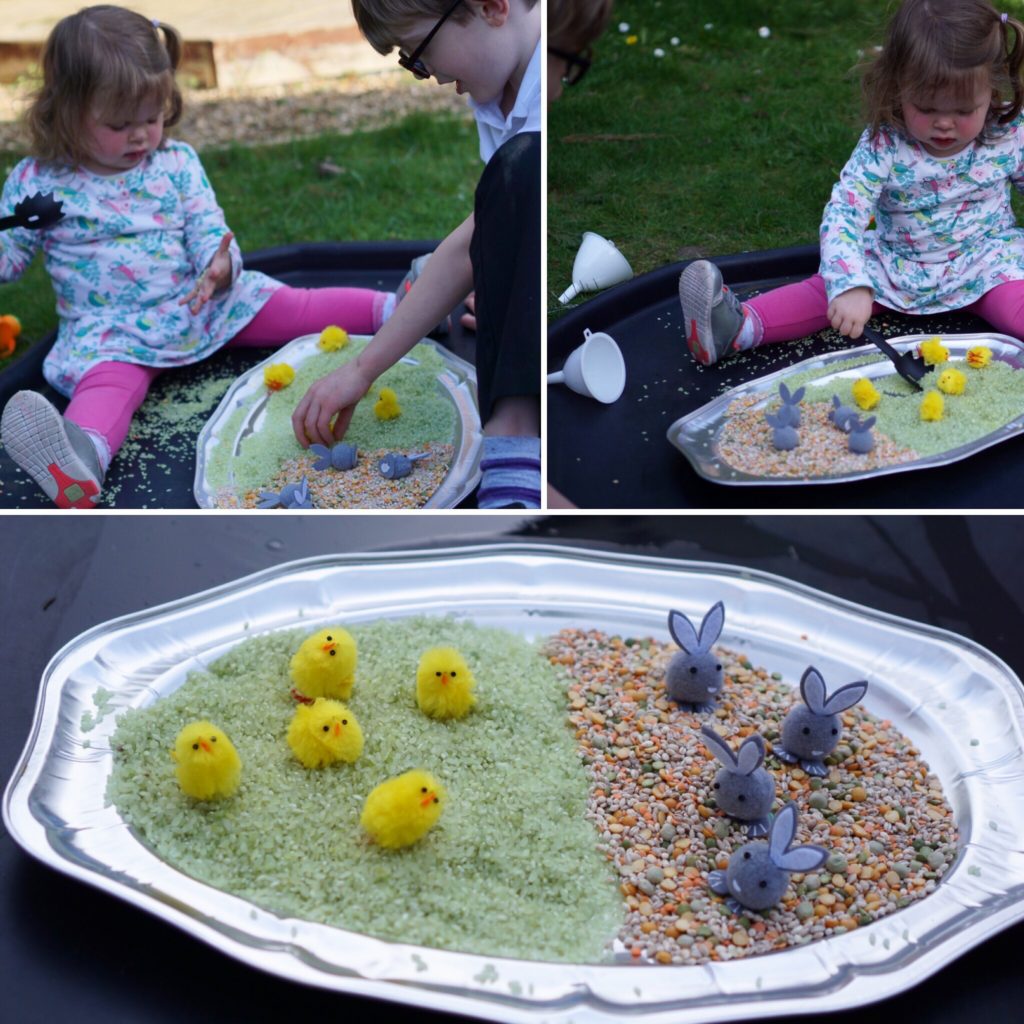 The green  side is rice dyed with food colouring and other side is 'soup and broth mix' that I found at the back of the cupboard. The bunnies and chicks were from Poundland's easter range. It was really interesting to see the different ways the children interacted with this. The big one created a complicated game with the bunnies trying to steal the farmer's vegetables. The little one made a mess!
Egg decorating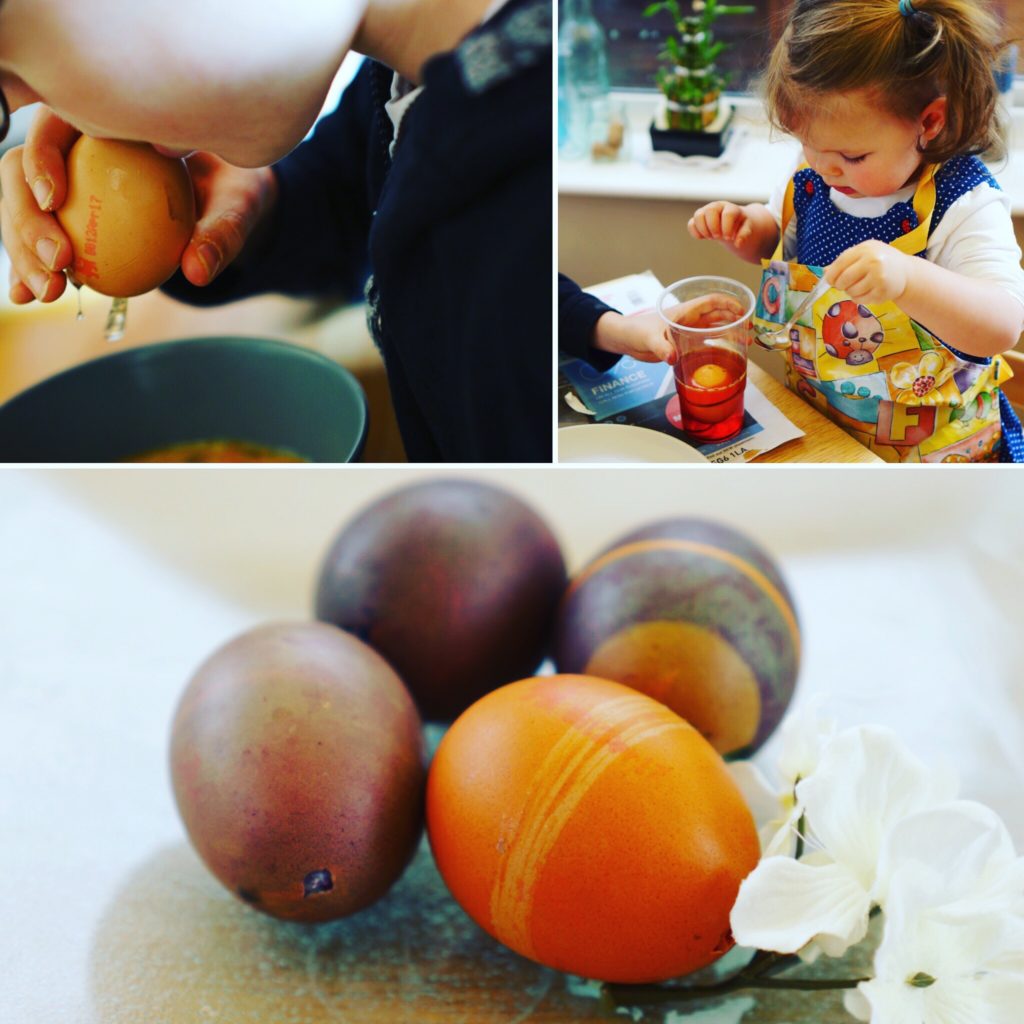 This is actually much easier than I was expecting. The colours didn't end up particularly bright but E was happy with the outcome which was good enough for me! We used elastic bands to make the stripes and then dyed them with a kit we bought from Lidl
Bean Pole Teepee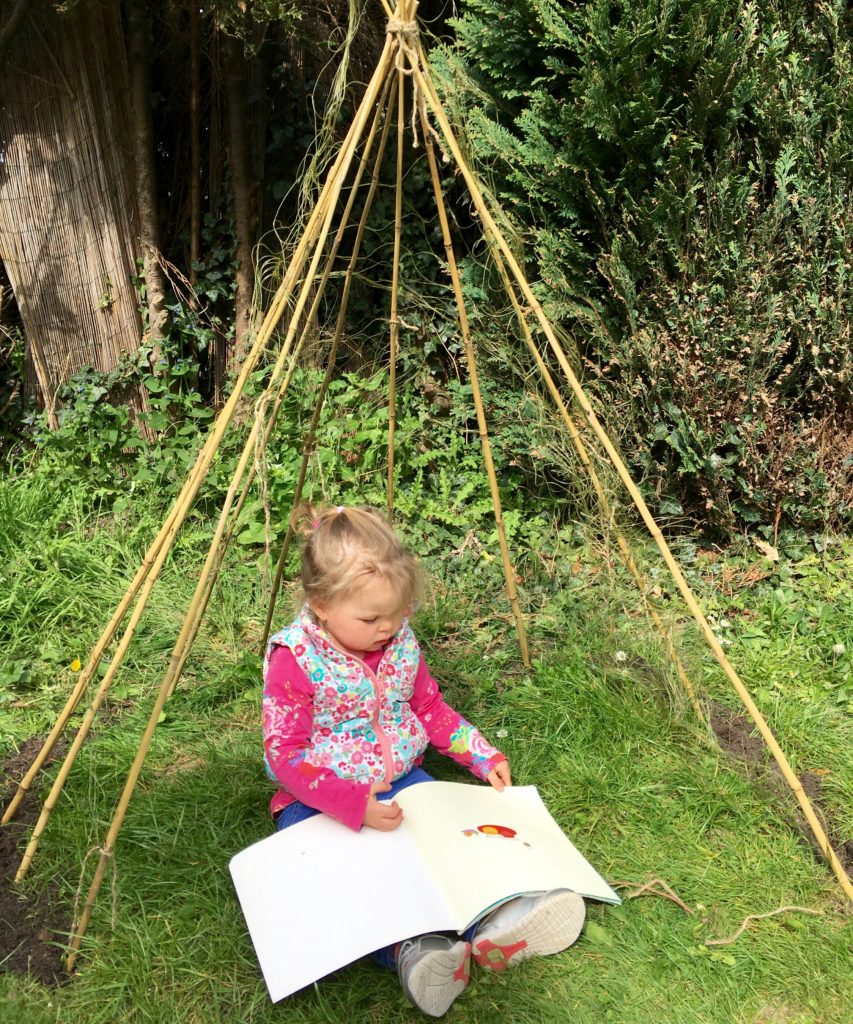 We kind of followed the instructions here from The Artful Parent (if you've not seen it before, look around the site there loads for brilliant ideas.) It's just started to grow so hopefully there will be more pictures soon.
Garden soup

During the warmer weather (ha!) I'm intending to set up a different activity in the water table each month. This time we collected flowers and leaves and so on and used them with jugs and pots and pans from the play kitchen.
Activities in the woods

This was really good fun and we'll definitely do more of it. Details here.
Planting

I got some children's tools from tesco and soil, pots and seeds. I put it all on the Tuff Spot. You don't necessarily need a tuff spot to do things like this but it does help for keeping everything in one place. We planted peas and beans and so on and then a few weeks later I transferred them to the teepee since the birds had stolen a lot of the initial seeds!
Easter Sensory Box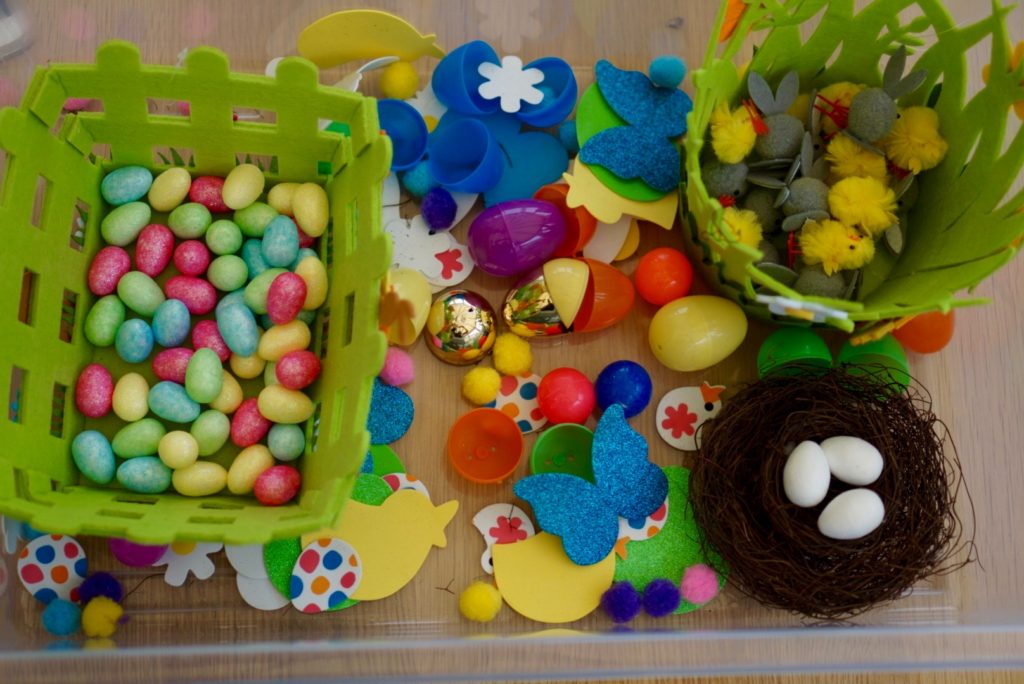 This was the least well prepared sensory tub I've done in a while – so of course it was really well loved. I had bought a lot of random spring and easter themed things for the easter holidays but the weather was beautiful so we didn't do a lot of crafts! I dumped the whole lot in a tub and they played for several days!!
Nest Play Dough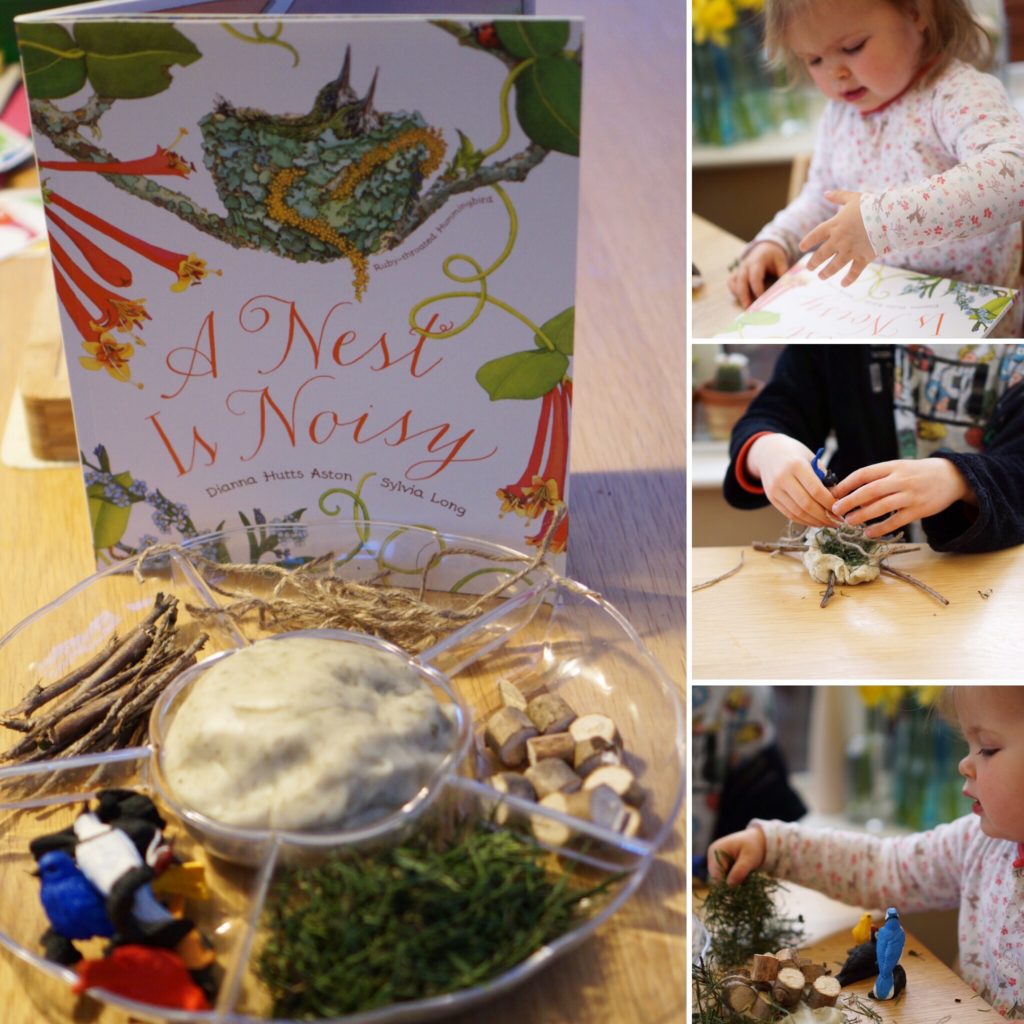 I'm fully intending to write a proper post about this – but then I was planning on writing proper posts about all of them! I got the idea here and basically used a lot of the same things. I cut up the little bits of wood myself with a hacksaw! There was also: grass, twigs, twine, and birds – the birds were bought specifically for this set and they're lovely!
We also looked at A Nest is Noisy which is full of beautiful illustrations and information. The play dough went 'funny' pretty quickly – I don't think I made it properly so this set didn't get as much play as usual. Maybe I'll make another batch and try again.
Phew – that was a lot of things – I don't feel so silly for avoiding writing!
Full disclaimer – this was spread over the whole of the 2 1/2 week easter break and some weeks either side!