E. loved sensory tubs when he was little so I've been waiting for Little Miss to stop putting everything in her mouth so we can start making them for her. (If you missed it here's a round up of the ones I made for E. when he was three)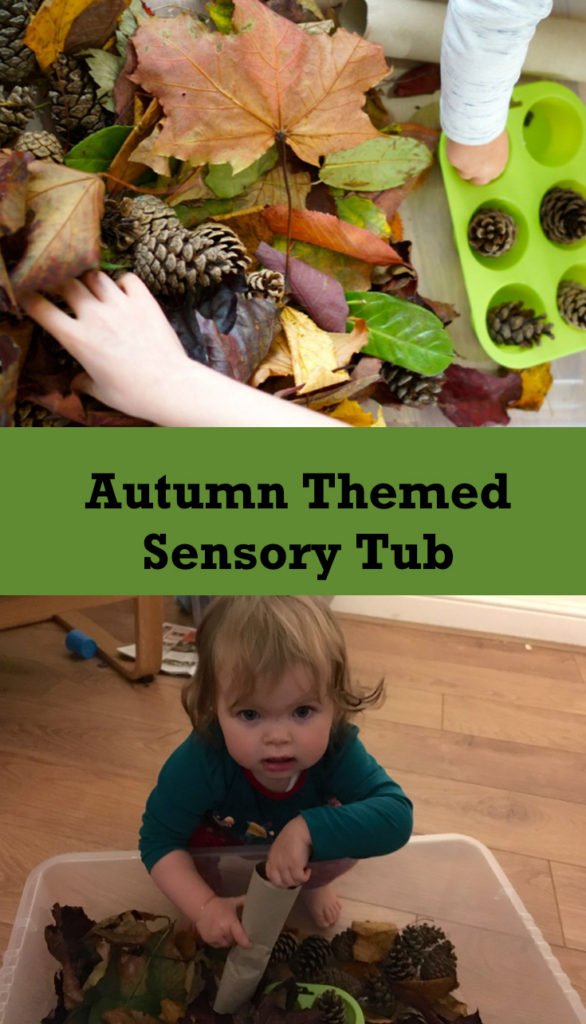 With such a big age gap (there are 6 1/2 years between them) I'm often looking for things they can do together and this was perfect. We went for a lovely walk during half term and collected a big pile of leaves, pinecones and acorns etc. E. loved doing this and really hunted for the best leaves and so on.  We put it in a big tub – I find large under bed storage boxes the best for sensory tubs – we started with a smaller one and it really didn't work as well.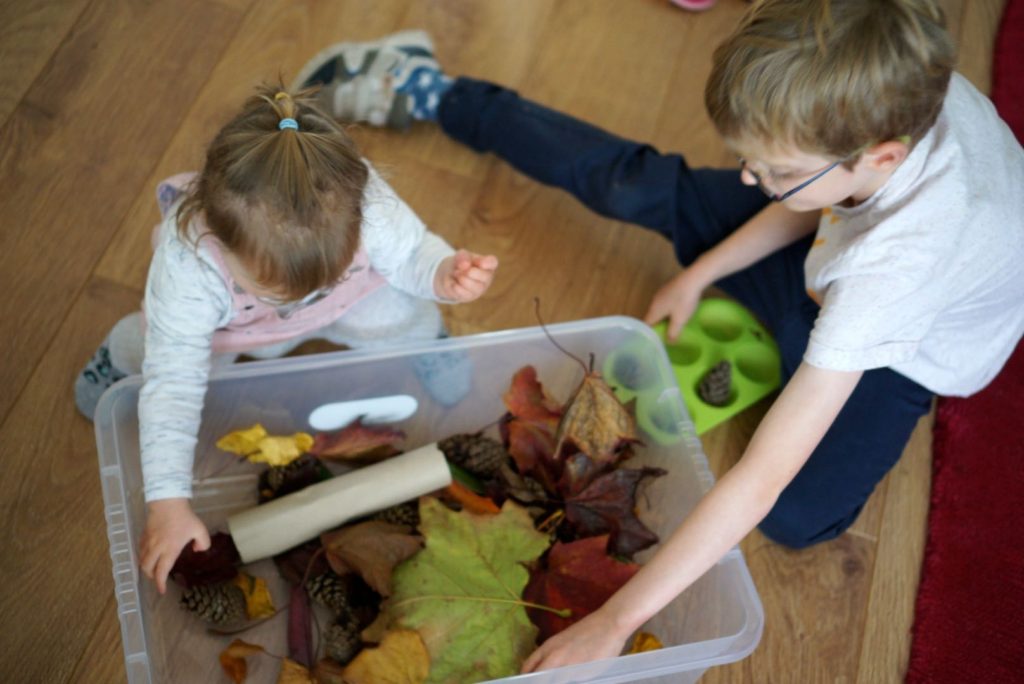 Contents
Leaves
Acorns
Pinecones
Conkers (we could only find a few – I think we missed the best time for these!)
Silicone muffin tin (this doesn't match the colour scheme which made me a bit sad (!!) but really helped give her something to do
Cardboard tube (I don't let my kids play with toilet roll tubes because I have a 7 year old boy in the house – but in most households I'm sure these would be fine!)
Berries – I quickly took these out because she was squashing them between her fingers which is great for motor development but I wasn't sure if they were poisonous!)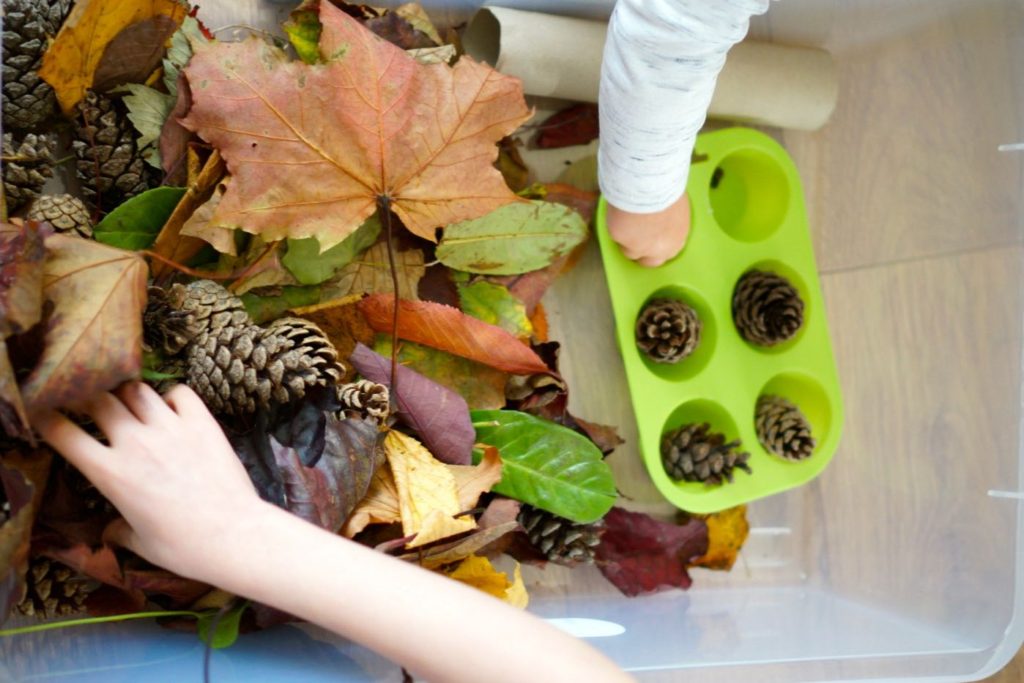 How I use sensory boxes
If you've been doing these for a while you can skip this but but hopefully it'll be useful for some of you!
 No matter what the theme,  sorting trays; spoons; tubes etc are really useful. As they get older and can do more imaginary play, little animals and people and so on are really good too.
I (vaguely) clear the floor/ playing area first and I don't leave them out for general play.
At first I sit and model or narrate what they are doing. This is great for language development. "The acorn is in the tube", "There's another pinecone etc" If I'm modelling I just do stuff with the contents myself and sometimes they copy and sometimes they don't.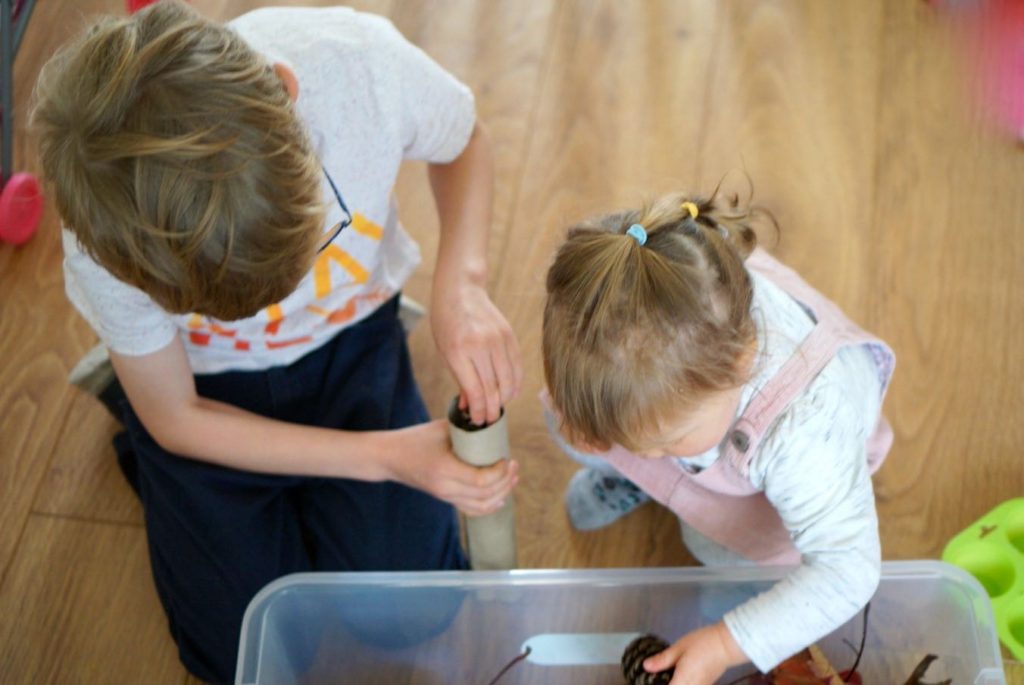 Once they've got the hang of it I tend to leave them to play more independently – but monitor more closely than I might do with normal toys
I don't let them just dump the whole thing on the floor – if they start tipping it out we put them back in. Little Miss can manage this at 16 months even though she regularly tips the entire contents of her toy box out!
When they are finished or getting bored of it we pack it up and put it away.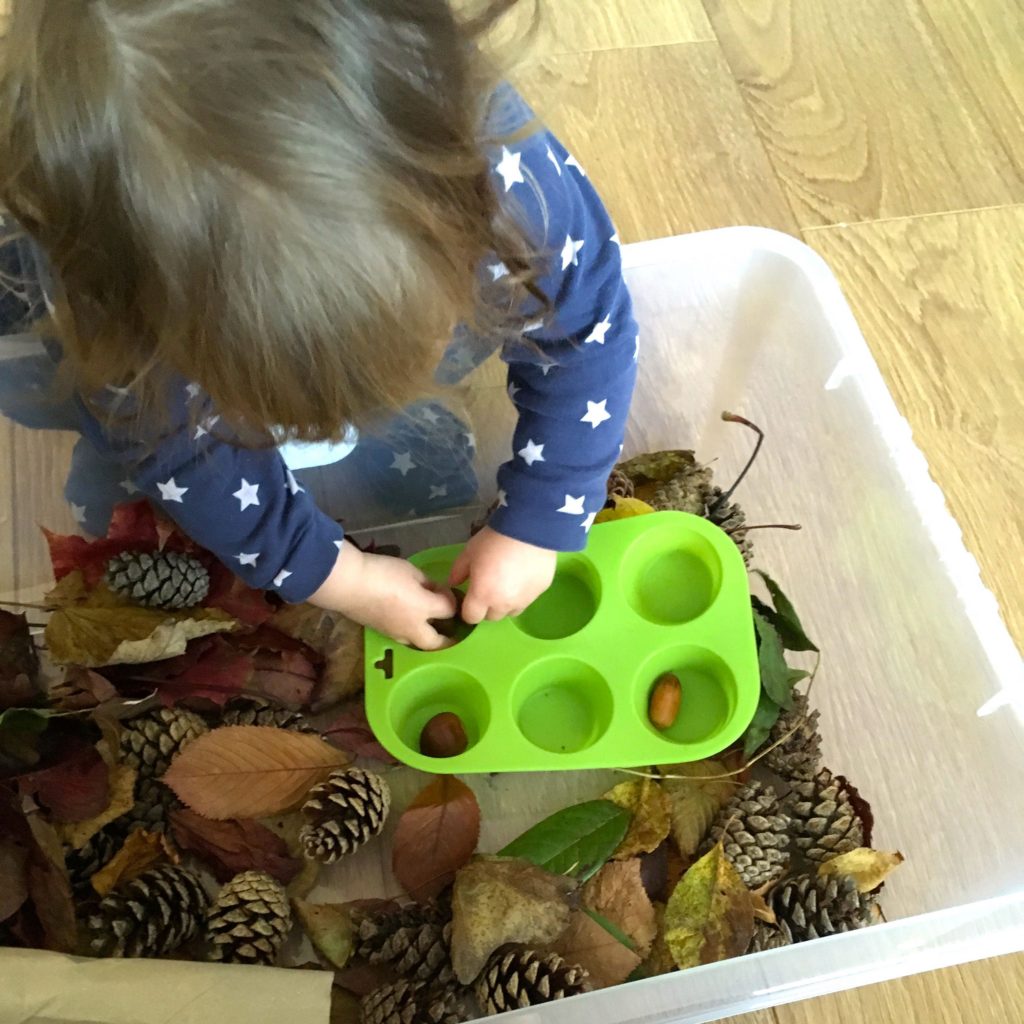 Benefits 
She absolutely loves it! 'Box' has quickly become a new word  and whenever she sees it she yells for it.
Motor skills – grabbing, putting things in tubes and the muffin tray are all good for her hand eye coordination.
Language skills, she's learning 'in' and 'on' as well as the words for the contents of the box.
Sorting and separating. These are early maths skills she's developing – if she was older I'd maybe model some pattern making or basic addition and subtraction as well.
Understanding of the world – she definitely seems even more interested in the leaves falling from the trees. It's also given rise to conversations with her big brother about the changing of the seasons.
Social – as a 'new toy' everyone has sat and played with her and talked to her about it.
I'm sure there are lots more that I'll think of as soon as I hit publish.
This was really easy to set up and apart from the box itself (our previous one is being used to actually store things!!) it was completely free.
For more information
Counting Coconuts – I was really inspired by this blog when I first started making tubs. It's currently not being  updated but it's a great resource.
Have you tried sensory tubs with your little ones? I'm always looking for new ideas.