Argh How can it be more than two weeks since I blogged? I thought I was getting the hang of this!
We're vaguely unpacked and I've even managed a bit of sewing. Of course I haven't managed to take any decent photos. My niece who's birthday was earlier this month wanted a hand-muff for her birthday so I made her one using this tutorial unfortunately I totally forgot to take a picture at all. The tutorial was really easy to follow and I think she likes it – hopefully she wont have lost it before it's actually cold enough to use it.
I also did a hoodie for my sister and her new hubby.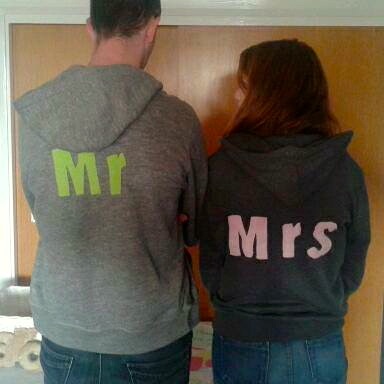 They wore them the day before the wedding while we were getting everything ready. (I say we but I didn't really do much mainly because Boo and I were stuck in dreadful traffic all the way there!)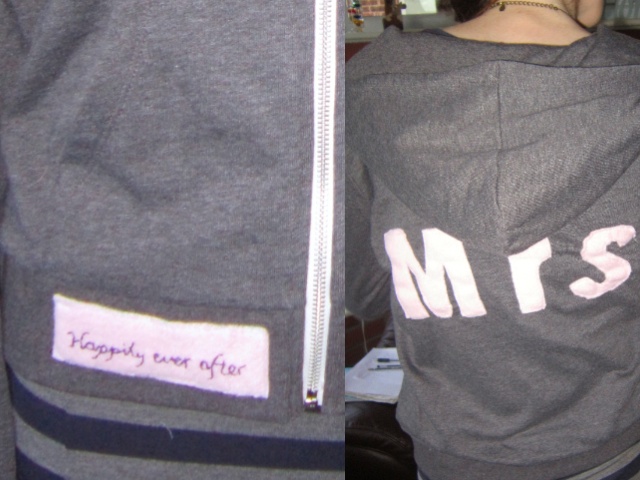 The "Mr" one says, "And they lived…" so they look cute from the front too. I was pretty happy with the hand embroidery. I might have made up tho technique but it's more likely I read how to do it somewhere but I didn't save the link.
What I did was print out the text I wanted then trace it onto some greaseproof paper (obviously proper tracing paper would work although I think the rubbish thin stuff is better than the high quality kind) Then I pinned the traced writing  inside-out onto the back of the fabric I was stitching on and stitched over it to make the letters. I ended up with the paper sewn onto the back of the fabric but because it's really thin it tears away really easily.
I've always been a bit nervous of hand embroidery because I don't really like my handwriting so this is a great technique for me. I love to learn new ways of doing things and there's probably a much easier way of doing it so if you've got a different way be sure to pop over to my Facebook page and let me know.
I can make these for sale if if anyone is interested I can price them up properly, they'll be around £25-£30 each plus postage.
(As usual comments are disabled but I love hearing from you on Facebook)